pics_n_sounds
Listen to the TPC
A sonification approach developed during a short-term scientific stay at CERN between September and December 2009 by Katharina Vogt in co-operation with Robert Höldrich, Stefan Rossegger, Werner Riegler, Matevz Tadel, Martin Rumori and David Pirro.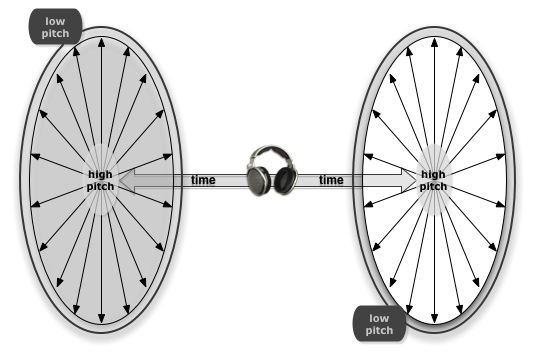 A charged particle traversing the drift chamber of the ALICE Time Projection Chamber (TPC) leaves a trace of ionization along its path. The electrons produced in the ionization process are accelerated in the external electric field and drift towards the read-out chambers where they are detected with the help of highly charged wires. The electrons reach the wires in the left or right read-out chamber after a certain time. Their time of arrival and their position on the readout chamber provides the information to reconstruct the original particle track.

We use sonification to make the electron impact on the wire audible, which is silent otherwise. Thus we directly listen to the measurement of the TPC - just much slower. Sonification is the auditory display of data - instead of or in addition to visualization tools. In this sonification, you can hear the following:
Panning: You are standing in the center, where the beams collide. The two read-out chambers are situated to your left and right hand side.
Pitch: As analogy to the electron hitting a wire we assume that it hits a string. The strings are shorter and higher pitched in the center of the read-out chamber and lower pitched at the outer circle. Click on the following symbols to hear one impact in the very center (high pitch) or the outer circle of the left read-out chamber:
Time: The tracks start playing in the point of collision and evolve simultaneously to your left and right hand side.
Amplitude: The volume of the sounds represents the energy deposit of the electrons.
Timbre: And finally, in order to not confuse tracks that are close to each other, they sound slightly different - as different instruments of an orchestra.

Click on the following circle to hear 8 slightly different sounds on the read-out chamber, all with the same pitch of 300Hz: (The 9th sound equals the first one.)
Perceptual grouping: If more electrons are hitting wires within a short time, we hear a continuous sound rather than single tones for each single hit. These sounds can change in pitch or be steady - if they move rather parallel to the beam pipe.
Listen to the event by clicking on the picture or click on the event name in order to listen to individual tracks.
(Data stems from Monte-Carlo simulations of proton-proton collisions.)
Document Actions